SBI Recruitment 2023:
 The State Bank of India has started the online registration process for the recruitment of Retired Bank Officers (RBO) for Business Correspondent Facilitator posts. Interested candidates can check the eligibility for the recruitment here and submit their application form on the official website of SBI at 
sbi.co.in
. The online application for SBI RBO recruitment will be active from March 10 to March 31, 2023. The State Bank of India aims to fill a total of 868 vacancies for the post of Retired Bank Officers through this recruitment drive.
Vacancy Details
S. No

Circle

Vacancy
1
Ahmedabad
28
2
Amravati
39
3
Bengaluru
32
4
Bhopal
81
5
Bhubaneshwar
52
6
Chandigarh
45
7
Chennai
40
8
New Delhi
58
9
Hyderabad
42
10
Jaipur
39
11
Kolkata
80
12
Lucknow
78
13
Maharashtra
62
14
Mumbai Metro
9
15
North East
60
16
Patna
112
17
Thiruvananthapuram
11
Total

868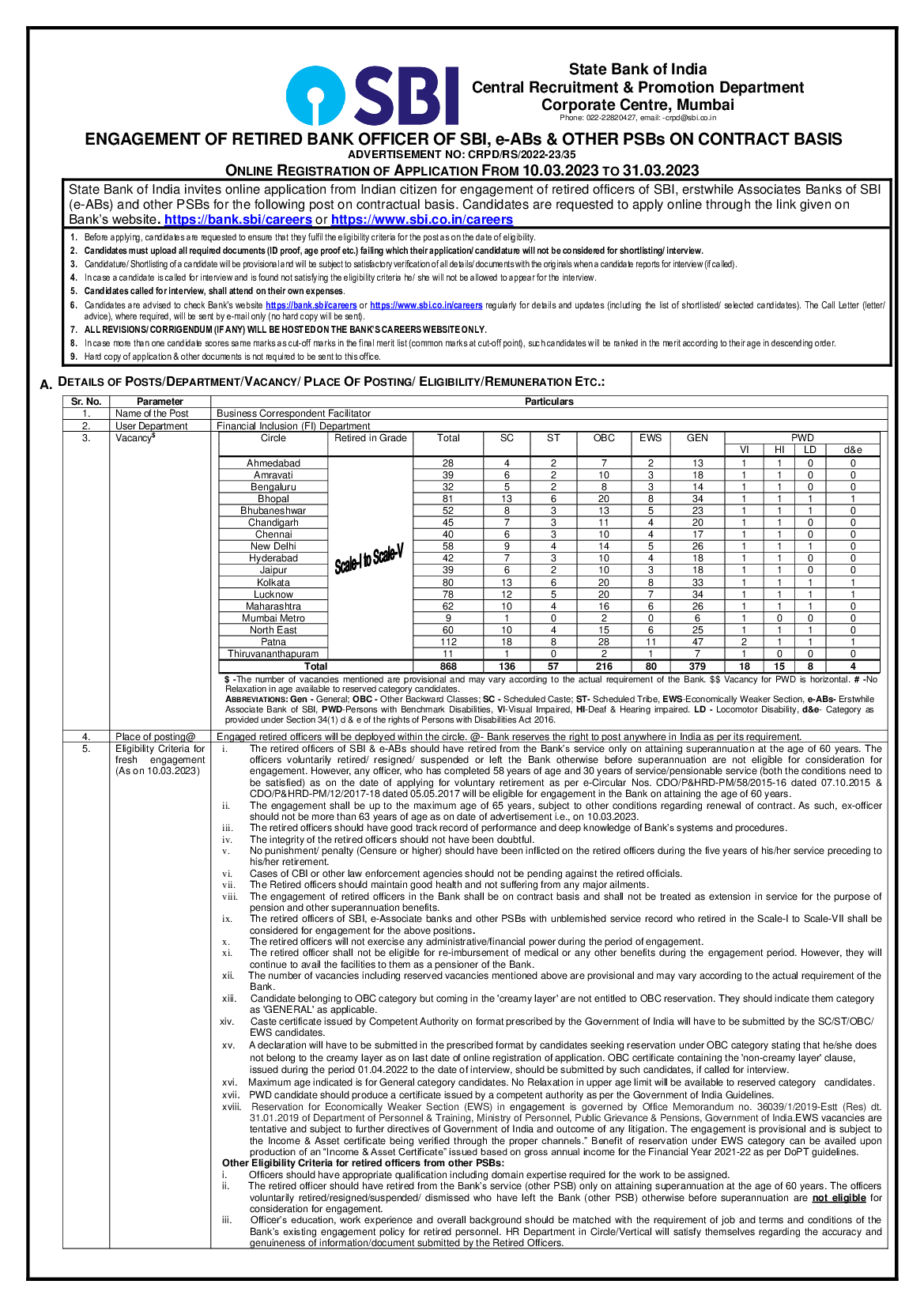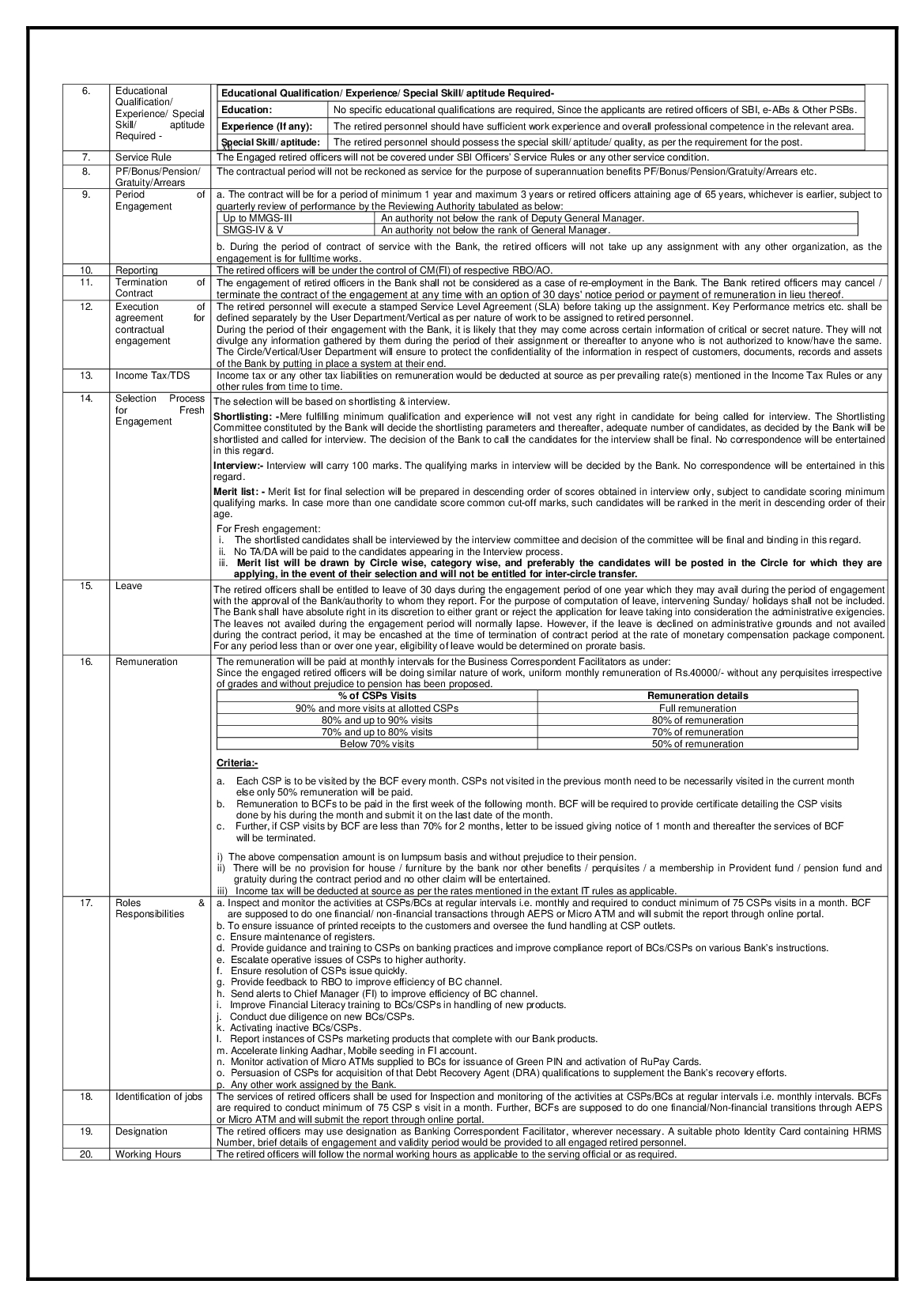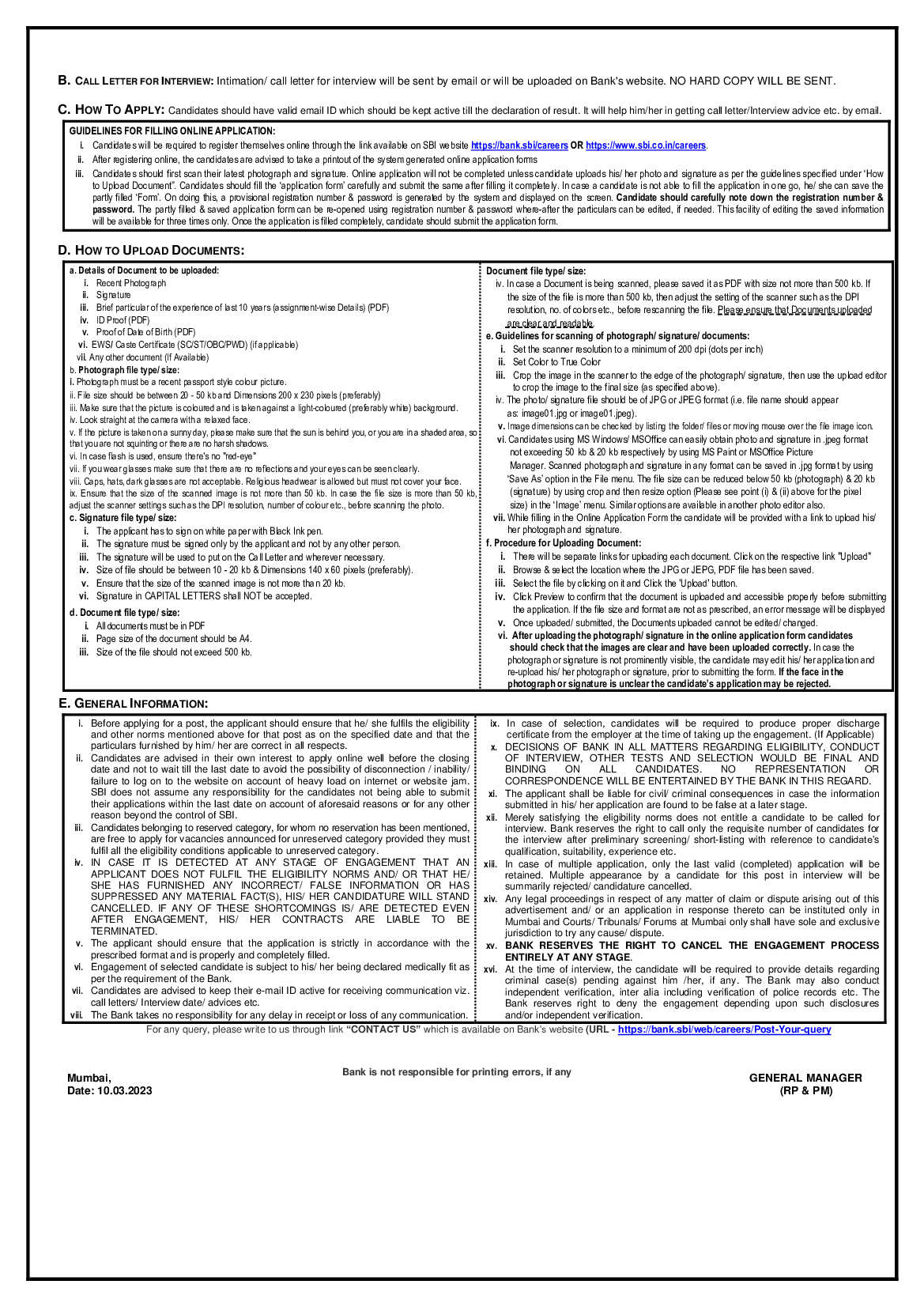 Eligibility
The retired officers of SBI & e-ABs should have retired from the Bank's service only on attaining superannuation at the age of 60 years. The officers voluntarily retired/ resigned/ suspended or left the Bank otherwise before superannuation are not eligible for consideration for engagement.
Educational Qualification
No specific educational qualifications are required since the applicants are retired officers of SBI, e-ABs & Other PSBs.
Candidates will be selected based on shortlisting and interview. The interview will be for 100 marks and the qualifying marks will be decided by Bank. The merit list for final selection list will be prepared in descending order of score
SBI CBO Recruitment 2023: How to Apply
Visit the official website – sbi.co.in/web/careers
Then click on the link – "ENGAGEMENT OF RETIRED BANK OFFICER OF SBI, e-ABs & OTHER PSBs ON CONTRACT BASIS"
Register and fill up the form
Pay the fees and submit
Download the same and take a print for future reference
Candidates who wish to apply for the RBO post, can check the details on roles and responsibilities, designation, working hours,leave, remuneration and more.